EVENTS
Westridge 2016 Summer Opportunities Fair
Saturday, February 6, 2016, 6:00pm - 11:00pm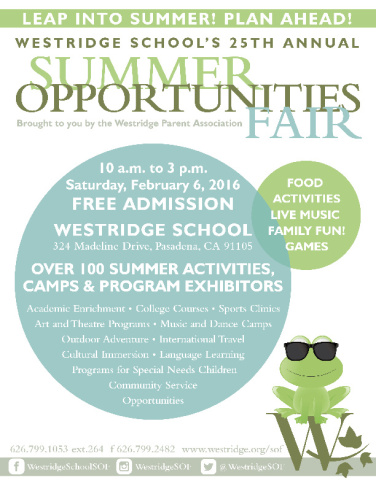 Start sorting out your summer plans now at Westridge School's Summer Opportunities Fair held on Saturday, February 6 from 10 a.m. to 3 p.m.  There will be over 100 camps exhibiting, ranging from traditional day camps to international travel to programs designed for children with special needs.  It is a free, fun-filled event open to the public with food vendors and activities for kids.
Event Info
Saturday, February 6, 2016
10 a.m. to 3 p.m.
RAIN OR SHINE
• Summer Activities for Every Budget
• Exhibitors from Over 100 Camps and Programs
• Sports Camps & Outdoor Adventure
• International Travel and Cultural Enrichment
• Community Service Opportunities
• Programs for Students with Special Needs
• Food! Activities! Family Fun!
• Free Admission
Westridge School
324 Madeline Drive, Pasadena 91105
(626) 799-1053
About the sponsor:
Westridge is an independent girls' school for students in grades 4 through 12.  We are dedicated to educating intellectually adventurous thinkers and courageous, compassionate leaders in a forward- thinking environment. 
---
---